The New Instagram Glam Shot
Who knew the London telephone booth would be reborn as an influencer prop?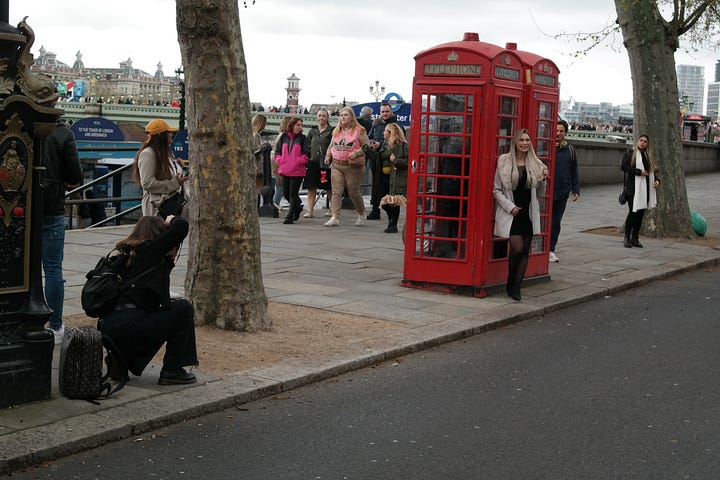 The London telephone booth has a second life.
No, nobody uses the telephones in them any more. I can't imagine a legitimate reason why anyone would use those. But the influencers have figured out a different use for the booths themselves. And if you look at just about any phone box in Central London these days, you'll see the use: someone will be snapping a selfie with it.
Shockingly often, there's a professional or semi-professional photographer accompanying the influencer—or the would-be influencer. And while my interest level in taking pictures of women (and they are mostly women) in or coming out of telephone booths turns out to be limited, I could actually spend all day—I have learned—taking pictures of the human drama of them posing for shots in front of their photographers using a London phone box as a prop. I'm honestly not sure why, but for some reason, capturing the faintly pathetic glamorlessness behind the glamorous London influencer shot amuses me.
To make the scene above more amusing, consider that it's actually one scene—not two. As this photo shows, these two women and their respective photographers were trying to use the same bank of phone booths for their photo shoots at the same time.
As you can see in this shot, the one in the white scarf (shown in the photo on the right above) ultimately had to stand down while the other woman finished her photo shoot.
Hey, iconic London phone boxes that prove you really were on the banks of the Thames are in high demand. Only the strong can survive.
---
Another day, another mass shooting.
---
From my colleague Roger Parloff at Lawfare, here is a useful analysis of the evidence presented in the Proud Boys trial, on which the jury is now deliberating. It opens:
"Oh shit, this is it."

When rioters toppled the first barricades at the Peace Circle at 12:53 p.m. on Jan. 6, 2021, that's what government witness and cooperating Proud Boy Matthew Greene remembered thinking, according to his testimony in the recently concluded Proud Boys seditious conspiracy trial. The jury is now deliberating.

Since that morning, when he and about 200 other Proud Boys had assembled at the Washington Monument at 10:00 a.m., he had been wondering what their plan was. At 10:30 a.m., Greene had been surprised when Proud Boy leaders Ethan Nordean, Joseph Biggs, and Zachary Rehl—all now defendants in the seditious conspiracy trial—led the group on a march toward the Capitol. Greene had assumed that they'd be staying where they were to hear then-President Donald J. Trump's speech at the Ellipse, just across the street. He also wondered why the Proud Boys had been instructed not to "wear colors" that day—a reference to their usual black and yellow apparel with appropriated Fred Perry laurel logos. 

But after reaching the Capitol and then stopping for lunch, the group marched to the bike-rack barricades at the Peace Circle, arriving at about 12:49 p.m. There, Biggs led them in chants Greene hadn't heard at the previous rally. It wasn't just the usual "Fuck Antifa! Fuck Antifa!" but also "Whose house? Our house!" and "Whose Capitol, Our Capitol!" When rioters violently toppled those barricades four minutes after the Proud Boys' arrival, it all suddenly seemed to make sense. "I was putting two and two together and saying, 'This is it,'" Greene testified

---
So Justice Samuel Alito says he has a pretty good idea who leaved the draft Dobbs opinion last year.
Dude, inquiring minds want to know!
Speak up, man.
---
Today's #BeastOfTheDay are the parrots who have learned to make videoconferencing calls to one another. Northeatern University has issued this press release, which reports:
Video chats like Zoom and FaceTime are great ways to stay in touch with loved ones—so great, in fact, that parrots are catching on.

A new study from researchers at Northeastern University, in collaboration with scientists from MIT and the University of Glasgow, investigated what happened when a group of domesticated birds were taught to call one another on tablets and smartphones.

The results suggest that video calls could help parrots approximate birds' communication in the wild, improving their behavior—and, likely, their well-being—in their owners' homes.

…

Rébecca Kleinberger, an assistant professor at Northeastern; Jennifer Cunha, a parrot behaviorist and Northeastern researcher; and Ilyena Hirskyj-Douglas, an assistant professor at the University of Glasgow, showed a group of parrots across a range of species and their volunteer caregivers to use tablets and smartphones how to video-call one another on Facebook Messenger.

The researchers then observed how the birds used that newfound ability over a three-month period. They wondered: If given the choice, would the birds call each other?

The answer, relayed in delighted squawks and head bobs, was a resounding yes. "Some strong social dynamics started appearing," Kleinberger says.

Not only did the birds initiate calls freely and seem to understand that a real fellow parrot was on the other end, but caretakers overwhelmingly reported the calls as positive experiences for their parrots. Some caregivers watched their birds learn skills from their video friends, including foraging, new vocalizations and even flying. "She came alive during the calls," reported one.

A few significant findings emerged. The birds engaged in most calls for the maximum allowed time. They formed strong preferences—in the preliminary pilot study, Cunha's bird Ellie, a Goffin's cockatoo, became fast friends with a California-based African grey named Cookie. "It's been over a year and they still talk," Cunha says.
And here's a special little something:
Keep reading with a 7-day free trial
Subscribe to Dog Shirt Daily to keep reading this post and get 7 days of free access to the full post archives.