"Defy God; Indulge Your Sins"
Three more #BookShirts, a new #SpecialMilitaryOperation, and a leopard from the acting #BeastMaster
Good Evening.
I trust all those who fasted did so with safety and ease and that all those who defied the gods and indulged their sins did so with pleasure and relish.
A bunch of coming episodes #DogShirtTV: #BookShirts.
First off, a reminder that tomorrow, the estimable Will Saletan will be appearing on the show to discuss his book, "The Corruption of Lindsey Graham," a copy of which is available—for free, no less—right here:
I've also schedule three new episodes:
On October 16, Kristen Kobes Du Mez will join us to discuss her book, "Jesus and John Wayne: How White Evangelicals Corrupted a Faith and Fractured a Nation."
On November 13, Yascha Mounk will join to talk about his new book, "The Identity Trap."
And on November 24, at a special time (4:00 pm Eastern) to accommodate the British time zone, Katja Hoyer will join to discuss her new history of East Germany: "Beyond the Wall."
Information about Zoom access for all of these events is available behind the paywall.
---
Announcing #SpecialMilitaryOperation: Return to Ottawa.
It's happening Saturday evening.
Those Russian diplomats in Canada have not been harassed by #LordLaser in a good long time. And there's a cool group of Canadians who've asked me to come join them for an evening.
So … road trip.
I'm excited about it, and I'll spend a little time this week developing some new material for the occasion.
---
Speaking of cool things done with projectors, many congratulations to the estimable Julia Shamsheieva, a Ukrainian friend who has won the prestigious iMapp Bucharest projection mapping festival's jury award for her projection submission: "Chiaroscuro."
I have never actually met Julia in person, but she appeared on In Lieu of Fun a while back and we have been DM buddies since. More importantly I'm kind of in awe of her work. Here's the conversation:
And here is her winning work from Bucharest this weekend. Seriously, watch it. Until you do, you cannot truly understand what you can do with projectors and a piece of architecture.
Now, I know what you're thinking.
You're thinking, "Ben, why don't you do projections like this?"
Here are four reasons:
You can't do this kind of work against a target that is not cooperative. Just think what one "Z" spotlight would do to this display.

You can only do this kind of work at close range. I'm afraid that I don't get to operate this close to most embassies.

You need many very expensive, very non-portable projectors to light up a building like this. You can't take them as carry-on luggage on airplanes. And most importantly,

These people are pros and they are totally out of my league! Are you fucking kidding me? I can't do shit like this. This stuff is next level.
---
Acting #BeastMaster Paul Rosenzweig writes in with some leopards: "Leopards are quite difficult to spot.  We were lucky to see this magnificent fellow lounging in the tree. He drags his kill into the tree so he has food close at hand. The wildebeast carcass seen here is a different leopard on a different day."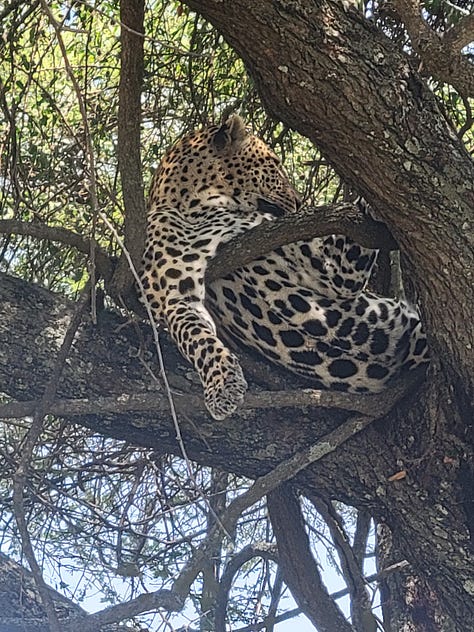 Keep reading with a 7-day free trial
Subscribe to Dog Shirt Daily to keep reading this post and get 7 days of free access to the full post archives.