Good Evening.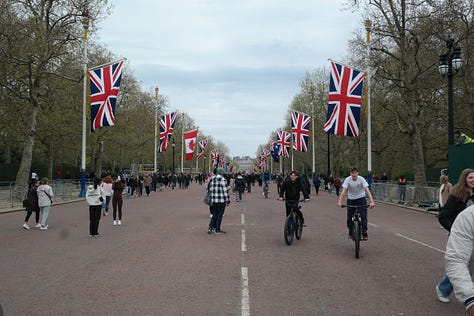 Thursday morning found me in London taking pictures of the preparations for King Charles's coronation. I have no interest in the coronation itself, but the preparations for complex public events are always fascinating, and I was on a long talk over to the Russian embassy anyway to case the joint for some future #SpecialMilitaryOperation anyway. (Bottom line: it's a hard target because of trees, police, and other impediments.) In any event, God Save the King and all that jazz. There are a lot of flags and buntings and folding chairs and barriers and temporary seating and areas sealed off and that kind of thing.
Thursday afternoon, a few hours later, found me lying in bed in my hotel with wicked jet lag, having flown to London overnight from the Patriots & Pragmatists conference in the undisclosed location—which can now be disclosed as Phoenix, Arizona—recording a podcast with the estimable Charlie Sykes of the Bulwark Podcast. The Bulwark Podcast is one of the very few podcasts I listen to daily, so I was touched and excited when Charlie asked me and Lawfare to partner with him to do a weekly Thursday feature on the the Trials of Trump. The podcast will feature the team at Lawfare that is covering the Trump trials in conversation with Charlie trying to make sense of events as they unfold. I hope you enjoy the first episode:
---
Speaking of podcasts, here's the conversation I recorded at 5:30 am with Roger Parloff and Brandi Buchman in Phoenix the other day before jumping on my flights to London. As you'll see, it's a detailed overview of the evidence presented in more than 60 days of the Proud Boys trial with two people who know the material like nobody else:
---
There's a very good and thorough account of the E. Jean Carroll cross-examination by Trump lawyer Joe Tacopina in the Washington Post by reporters Shayna Jacobs, Kim Bellware and Mark Berman. Here are all of the substantive paragraphs regarding Carroll's Thursday testimony:
when Tacopina questioned her on Thursday, Carroll testified that she made the decision to come forward after seeing the flood of sexual assault allegations made against Harvey Weinstein, the disgraced film producer, and numerous other powerful men.

Carroll, 79, has said that she told two friends about the alleged Trump assault at the time and then kept silent, fearing the impact it would have on her reputation. Carroll testified that she worried about how Trump would retaliate if she spoke out.

"And that's exactly what he did," Carroll said Thursday. "My worst nightmare came true."

…

When the #MeToo movement surged, Carroll said Thursday, she was "flummoxed" by what happened.

"Can we actually speak up and not be pummeled?" Carroll recalled thinking. When other women went public with their own stories, she said, "It caused me to realize that staying silent does not work."

During sometimes fraught cross-examination on Thursday, Tacopina quizzed Carroll about her account, including her inability to remember the specific date the alleged attack occurred or why she called a friend afterward, rather than the police.

Carroll and Tacopina verbally sparred at times during his questioning, which lasted about three hours. She appeared to grow irritated at some moments, including when the attorney asked why Carroll did not scream when Trump allegedly assaulted her.

"One of the reasons women don't come forward is because they're always asked, 'Why didn't you scream?'" Carroll said. "Some women scream, some women don't. It keeps women silent."

After more back-and-forth with Tacopina, Carroll responded with audible frustration: "He raped me whether I screamed or not!"

…

With Carroll on the stand, Tacopina seemed focused on framing the details of her allegations as implausible. Tacopina repeatedly returned to Carroll's contention that Trump had pulled her tights down, asking how she could raise her knee in that position. The attorney also seemed incredulous at Carroll's testimony that she had been wearing four-inch heels.

Carroll scoffed at Tacopina's question. "I can dance forwards and backwards in four-inch heels," she said.

Tacopina also pressed Carroll on her inability to name a specific date when the alleged attack occurred.

Carroll has said she could not specify when the attack took place, writing in her lawsuit that it was either 1995 or 1996. Testifying on Wednesday, Carroll said "the when, the date has just been something that I am constantly trying to pin down." Carroll now thinks it occurred in the spring of 1996, she has said in court.

The trial, which began Tuesday, is expected to continue through at least next week. Carroll is expected to take the stand again Monday, with Tacopina resuming his questioning.

…

In court on Thursday, Tacopina pressed Carroll about why she never called police or went to the hospital. Carroll said she was in physical pain after the alleged attack, testifying that when she returned home, "My vagina still hurt from his fingers."

Carroll said that after the alleged attack, she tried to get back to her normal life and routine. The following day, Carroll said, she returned to work.

"I was going to go on," she said.
---
A reminder that if you have a background in development, you should come work for Lawfare.
---
A reminder that if you're interested in following #SpecialMilitaryOperations, you should sign up for my Signal group for news, photos, videos and other information on the subject. You can do so by scanning this QR code:
---
And a reminder that the deep sea contains all sorts of mysterious beasts. The estimable Frank Valadez nominates the newly discovered box jellyfish species with 24 eyes that has been discovered in China as today's #BeastOfTheDay:
---
And here's a special little something:
Keep reading with a 7-day free trial
Subscribe to Dog Shirt Daily to keep reading this post and get 7 days of free access to the full post archives.